I had no clue before reading that this was the mastermind behind one of my favorite sayings: the people we meet at the wrong time are actually just the wrong people. Which I shared last year in my review for Rania Naim's All The Words I Should Have Said.
In this series of 30 honest and poignant essays, Heidi Priebe explores the harsh reality of what it means to let go of the people and situations we love most – often before we are ready to – and how to embrace what comes next.
I couldn't have picked this up at a more precise time in my life. This Is Me Letting You Go was exactly the kind of reaffirming book, full of genuine, wide-open hearts, I needed so badly to back me up. And I'll be sure to circle back to it time and again. Which is why I'm going to share some of those invaluable pieces of writing so that I can come back to it:
I'm Texting You This Because I Like You
"I'm not texting you the link to this website because I think you're actually going to like it. I mean you might, and that would be great, but I mostly just want your reply. What do you think of this thing that I find funny? What in your mind lines up with mine and where does it deviate? What do I enjoy that you despise? What do you analyze that I glaze over unnoticed? I'm texting you this because I want to know your thoughts on something – anything, really. Your mind is an infinite library that I would like to peruse for a while."
Oh, how I love that last line…
The Truth About Meeting Someone At The Wrong Time
"The right people don't make you hmm and haw about whether or not you want to be with them; you just know. "
Read This If You're Worried That You'll Never Find 'The One'
This essay challenged my perception a lot, and I am beyond grateful for it doing so. This one question, in particular, liberated me: "But imagine for a second that you knew – with 100% certainty – that you were never going to meet that person. What about your life would that knowledge change?"
I will never tire of having a collection that makes you stop to think its points over! Though I didn't agree with all the sentiments shared, it was so refreshing to read pieces of writing I thought would veer towards the usual cliche, but instead, it surprised me by talking about various topics in a deeply relatable way that aligned with my beliefs.
"So stop looking for The One to spend the rest of your life with. Be The One.
And let everybody else come searching for you."
Read This If You Feel Like It's Taking You Too Long To Move On
"If there's anything I wish we could talk more about it's the in-between stages of letting someone go. Because nobody lets go in an instant. You let go once. And then you let go again. And then again and again and again. You let someone go at the grocery store when their favorite type of soup is on sale and you don't buy it. You let them go again when you're cleaning your bathroom and have to throw out the bottle of the body wash that smells like them."
…
"The truth is, none of us want to think of ourselves as works in progress. We want everything to happen instantaneously: Falling in love, falling out of it, letting go of what we know we ought to leave in the past and moving on to whatever comes next. We hate the in-between spaces – the times when we're okay but not quite there yet. The periods where we suspect that growth is happening but have nothing to show for it."
Here Is When You'll Get Over Your Ex
"Some part of you knows better – that you have to wait this out. You have to take it in waves. You know that someday you'll forget their birthday and they'll forget yours too and until that day you keep yourself busy. You keep moving. And you keep letting the small details slide."
"You will not get over your ex all at once. You'll get over them through a series of tiny, tender moments that bring you quietly back to yourself."
Just Be The One Who Cares More
"Being the one who cares less makes us feel cool and suave. But never anything more than that. It can't even begin to compare with the excitement of meeting someone you are CRAZY about. Someone who lights up your day with every subtle interaction. Someone you cannot wait to see again. Someone you suddenly want to spend every waking moment with, even if that's crazy and impulsive and happening way too fast. I know it's a trial to be the one who cares more. But it's also the most enthralling, fulfilling feeling and I'd like to urge you not to sell yourself short of it."
This thought randomly brought me to Ron Swanson's "Never half-ass two things. Whole-ass one thing."  
"Be the person you wish you were dating."
Here Is How You Stop Waiting For Someone To Come Back
"You stop waiting for someone to come back through a series of slow, deliberate steps that move you away from the life you thought you'd have and towards the one that's waiting for you."
"You have face forward toward the future you hadn't planned for and the life you didn't know that you would lead. "
When You Have To Leave The Best Things Behind
"There's nothing more difficult than walking away from what we love before we're ready to. Even when every fibre of our being understands that we must go, we want to stay. We want to linger. We want to find a loophole or shortcut that allows us to have it all. We forget that there's a future. Some incorrigible part of us so easily forgets that there are good things ahead. Better things ahead, even. And perhaps that's what we need to understand the most fully when we're facing those times of transition – that all our best moments aren't all behind us."
As one wise woman once said: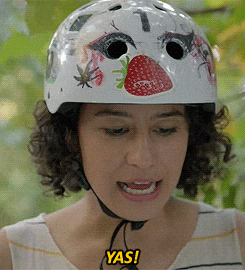 "Just because the scene in the rearview mirror looks nicer than the scene on the road ahead doesn't mean you'll never reach another beautiful destination. It just means you're not there yet."
This quote made me fully understand the power of words.
---
As you can see by the many, many quotes I inserted, I'm so relieved and glad that this collection didn't peak at the 'timing being wrong' phrase I shared at the start of my review. I went in not expecting much and it blew me away. What a barrier breaker!
"The future we want will not arrive without our participation."
And it goes without saying that some fitting music had to be played during my reading experience:
Note: I'm an Amazon Affiliate. If you're interested in buying This Is Me Letting You Go, just click on the image below to go through my link. I'll make a small commission!
Support creators you love. Buy a Coffee for nat (bookspoils) with Ko-fi.com/bookspoils